De Rock around the Jukebox show 2005 Open air
De Rock Around the Jukebox openlucht beurs wordt georganiseerd door het Jukebox Collector magazine.
Zondag 15 mei had de 2005 editie plaats.
Open lucht, de benelux.. goed weer is nodig maar niet altijd gegarandeerd. En in tegenstelling tot vorig jaar, viel dit jaar tegen !
Wij waren er 's morgens, en toen waren er heel de tijd hevige regenbuien. Pas rond de middag stopte de regen en na 2u scheen de zon..
Het verbaasde me echt dat sommige verkopers niet de minste moeite deden om hun jukeboxen te beschermen tegen de hevige regen. Je zal 's middags maar een mooie jukebox voor meer dan 3000 euro kopen, terwijl die 's ochtends zeiknat was !
Veel flipperkasten stonden er niet, minder dan vorig jaar. Maar afhankelijk van wat je zocht, kon je wel koopjes vinden. EM's waren te krijgen vanaf 150 euro, en er waren ook recentere kasten zoals No Fear, STTNG, Diner, ..

Jukeboxes in de regen.

Seeburg 222 Stereophonic jukebox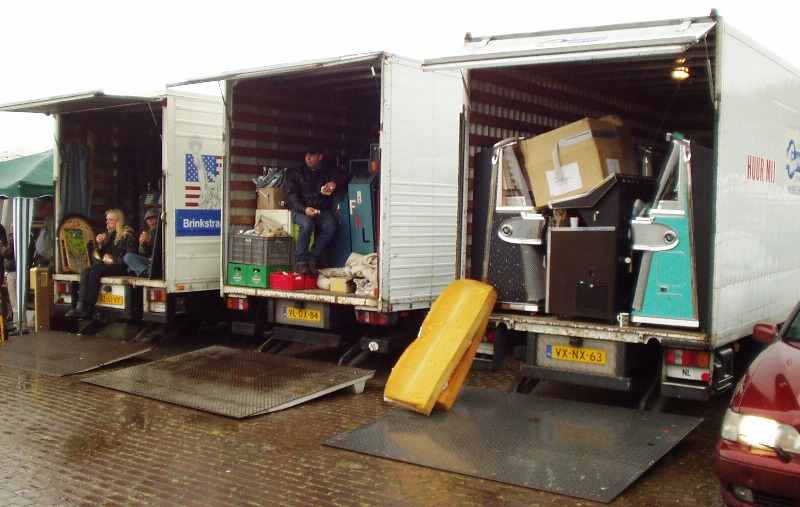 Rock-Ola jukeboxen

Seeburg VL200 jukebox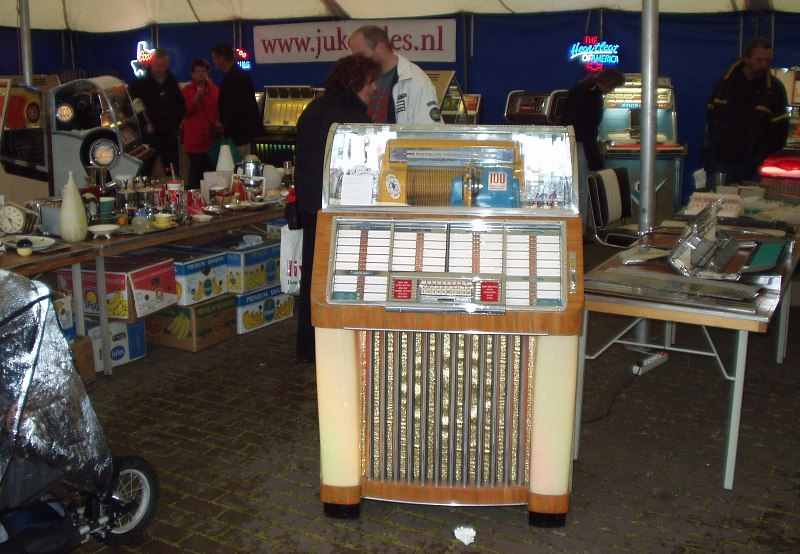 Kauwgomballen automaten en reclame borden te koop.
Duitse Kobolt chocolate vending machine en duits Rotamint spel.

Speelvelden te koop.

Electro-mechanische flippers te koop.

Antieke skill games
Baly Creature from the Black Lagoon pinball machine en Coca Cola Vendo.

Wallboxes en oude gokkasten.

Williams Metro flipper en Bally Circus eenarmige bandiet.

Chevrolet Corvette.
Seeburg VL200, Wurlitzer 2104 jukebox

Starship Troopers, Scared Stiff en No Fear flippers.
Wurlitzer 2300 jukes

Wurlitzer jukeboxes.
Rock-Ola juke
Gottlieb Miss Annabelle woodrail flipper

Wallboxes en gokkasten te koop.

Jukeboxen en flippers te koop.