The indoor Rock around the Jukebox show 2010 - Pinball machines
Pinball machines
There were a lot of pinball machines at this years show, I even think there were a few more than last year. Prices seemed to be reasonable.. Not cheap, but not all were overly expensive.
There were no really expensive games (like Medieval Madness, Cactus Canyon, ..) which you could find at the show the previous years.
Henk De Jager had a nice booth in which he was selling totally revised electro-mechanical pinball machines.
He also had some promo plastics, pinball flyers and other pinball collectibles for sale.
As always with Henk, prices of his pinball machines were very reasonable. He also knows his games in and out, they were all cleaned and technically perfect. So if anyone is looking for an electro-mechanical game the games Henk is selling are probably the most interesting games you can buy at the show.

Overview of the booth of Henk De Jager.

A Williams Heat Wave. The more points you score the more the temperature increases..

A Williams Thoro-bred pinball machine.

Gottlieb Bowling Queen pinball machine. A very nice wedgehead pinball machine with backglass animation.

If you already have an electro-mechanical pinball machine but have some problems with it, Henk and Ramon will revise and clean the game for you for a flat fee of 125 euro (+parts used).

Flipcoin also had a booth with a lot of pinball machines, as usual they were hidden in the dark underneath a tent.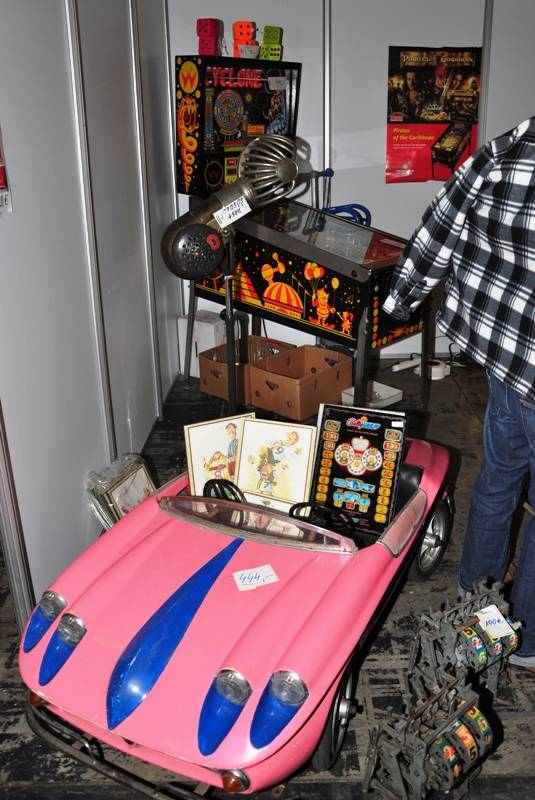 A Williams Cyclone pinball machine.

This german seller had a few nice pinball machines for sale: Revenge from Mars, Williams Taxi, Data East Batman and Bally Captain Fantastic.
He also had some pinball parts, neons and other games for sale.

They also had a working Williams Wild Fyre pinball machine.

A nice Williams Whirlwind pinball machines and a Hot Shot basketball game.

It was the first time in my life I've seen (and played) this Hot Shot Basketball game. They are quite rare in Europe. The price of 690 euro wasn't too bad, considering there's a regular WPC boardset in the machine, so worst case it could be used as spare parts for another pinball machine..
I did play a game on this machine, it's not something I'd want myself.. but I guess someone who collects all pinball machines and wants to have every WPC game, needs this in his collection.

Data East Lethal Weapon 3 pinball machine.

Zeldzameflippers.nl (which translates into 'rare pinball machines') also had a booth, selling a few working pinball machines and lot of parts and playfields for parted out games.

Elviras Scared Stiff pinball machine.

Jukeboxshop also had a big booth, they had a Twilight Zone, Getaway and Addams Family pinball machine, together with a lot of other stuff they sell..

Williams Police Force, Williams Junk Yard, Bally Harley Davidson, Bally Dolly Parton pinball machines.

A Williams Star Dust pinball machine.

Here you could buy pinball flyers and manuals.

Wallgames, gumball machines and a Williams Pin-Bot pinball machine.
Bingo machines

The booth of Frans Pilger and Coos Hakvoort also had a lot of visitors. Both are very passionate collectors of Bally bingo machines, who do TOP restorations of these games. If you are interested in the restoration of bingos and pinball machines you really have to check out their websites. They explain how they recreate backglasses, remanufacture parts, repaint cabinets and much more.

An overview of the nice restored Bally bingo machines they had.

Bally Broadway bingo machine

Bally Ice-Frolics bingo machine

The stars of the show, two vintage machines, perfectly restored: Chicago Coin basketball Champ and Struggle Buggies woodrail pinball machine.

The backglass looks great for such an old game, doesn't it ? That's because it's brand new backglass.
Frans took the time to explain me they recreated this backglass. Coos had scanned the original glass and recreated the missing parts in Photoshop. Then they had it printed. It's made of different screens, there's even a white screen on the back.
Previous page: Jukeboxes. Next page: Retro stuff and collectibles.